Locals the Strength at Seriston – 2015 Sale Report
Tom Dennis, Elders Livestock Manager Naracoorte, Stud Consultant Leigh Allan, Anthony Hurst, Seriston, Gordon Wood, Landmark Stud Stock Manager display lot 83, Seriston 144100tw, the top priced ram at the sale at $3,800 & purchased by Hurlstone Agricultural High School, Glenfield NSW.
With a big increase in the buyers' register and interest spread from Burra to Edenhope, Pinnaroo to Kingston and Colac, and all points in between, the locals at Seriston last Friday were sure to be kept on their toes.
Once again late winter and spring rains have failed in the Avenue Range district. However, the offering of 133 White Suffolk and 41 Suffolk rams presented by Anthony Hurst were in wonderful condition and as fresh as new paint.
They were even from lot one to the end where rams in the last pen offered sold above last year's average. Only three Suffolk rams were passed in on the day.
The strong sire battery that Anthony has put together is paying dividends as the average and clearance was well up on last year.
The strong battery has recently been complemented by the purchase of Premier Optimum 13P033 from the Gilmour family for $16,000. Keen judges and clients are waiting to see the progeny.
Under the astute hammer of Landmark's Gordon Wood and Elders' Tom Dennis the sale opened on a run of 81 White Suffolk rams, which sold to a wonderful top of $2700 and only two selling under $1000.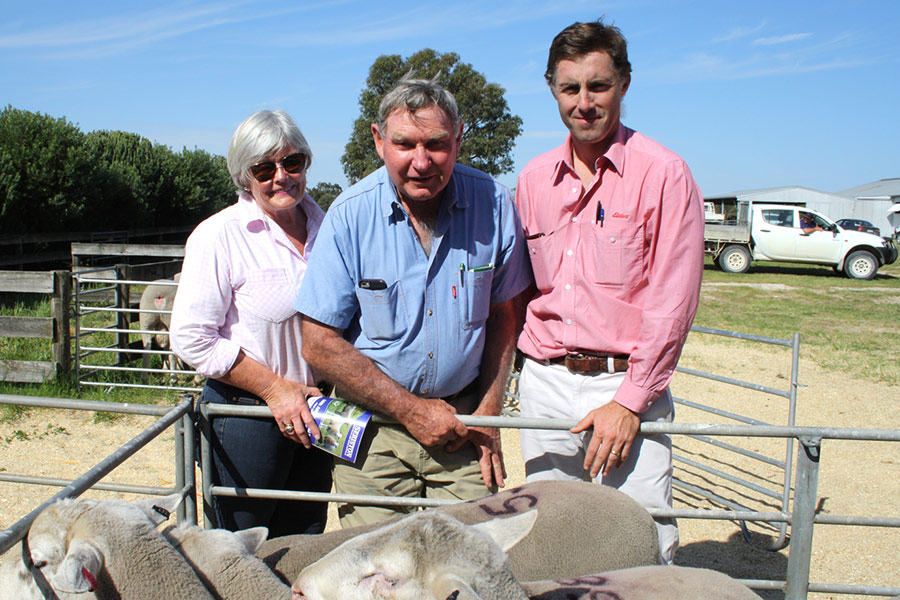 Annie Haynes, David Crawford, Holmwood Pastoral Co, Avenue Range and Tom Dennis Elders inspect David's purchase of 7 rams at Seriston on Friday.
Six stud Suffolk rams followed and were all cleared to $3800 and an average of $2067. The top priced ram, Seriston 144100tw was purchased on order with Naracoorte based stud consultant Leigh Allan for Hurlstone Agricultural High School from Glenfield, south of Sydney, NSW.
Having been shown in Adelaide where he won a blue ribbon and sired by Telpara 75, the ram exhibited great bone, length, wool and meat quality.
With an EMD of 48mm and an EMA of 36.8 sq cm, he carried some of the best figures in the sale. Four people were bidding on the ram to $3000.
Second top price in the Suffolks was for S144146tw at $2300, purchased by the Hann family, Nampara Past. Co, Penola, who selected nine head in all averaging $1280.
Jarrad Burland from Gazete in Victoria paid up to $2000 for flock rams and the remaining flocks were split evenly amongst another 10 local clients.
The final 50 White Suffolks continued on at the high levels achieved before the break to offer the Suffolks.
The final 20 offered received less competition, but all cleared at rates marginally below last year's average.
The second top price in the Whites was for S144278tw at $2400 purchased by BJ & KT Drabsch from Kingston, while Leigh Allan paid $2200 on order for S144472tw for Willaroan Pastoral, Colac, Vic.
Leigh Warne, Landmark, Naracoorte was active throughout the sale with his clients, RD & MA Smith, Lampshed Farms, Edenhope.
They purchased 15 head to $2700, the top White Suffolk price, for an average of $1633, some $297 up on last year when they selected out 11 head.
Malcolm Gill, buying for Hillcrest Pastoral Co, Lucindale selected 12 rams to a top of $1100 and at an average of just over $1000.
Michael Ryan from Naracoorte, who has supported Seriston for years, purchased eight head, as did Ross Lomas, Point Vale Pastoral, from Hamilton in Victoria, paying up to $1500.
Daniel Varcoe from Millicent attended for the first time following advice from others who recommended these Seriston sheep. He purchased seven head and paid up to $1000.
Other major purchasers were Lake Hawdon at Robe, seven head, while Konetta Station, Greenways, Woodstock Partners, Lucindale, Walteela Props, Avenue Range, CC & JC Tiver, Hallett and Rob Johnson, Conmurra all purchased six rams.
Next door neighbour, David Crawford, Holmwood Past, purchased seven head as did Karowara Pty Ltd from Naracoorte, who purchased for the first time.
Sponsors who always support Seriston well were Coprice and Gallagher. The sale was conducted by Landmark and Elders with Gordon Wood and Tom Dennis were auctioneers.
| | | |
| --- | --- | --- |
| White Suffolk | 2015 | 2014 |
| Offered | 133 | 129 |
| Sold | 133 | 124 |
| Top Price | $2700 | $1700 |
| Average | $1218 | $870 |
| | |
| --- | --- |
| Stud Suffolk Rams | 2015 |
| Offered | 6 |
| Sold | 6 |
| Top Price | $3800 |
| Average | $2067 |
| | | |
| --- | --- | --- |
| Suffolk Flock Rams | 2015 | 2014 |
| Offered | 38 | 42 |
| Sold | 35 | 35 |
| Top Price | $2000 | $1700 |
| Average | $917 | $884 |
Report by Richard Cooper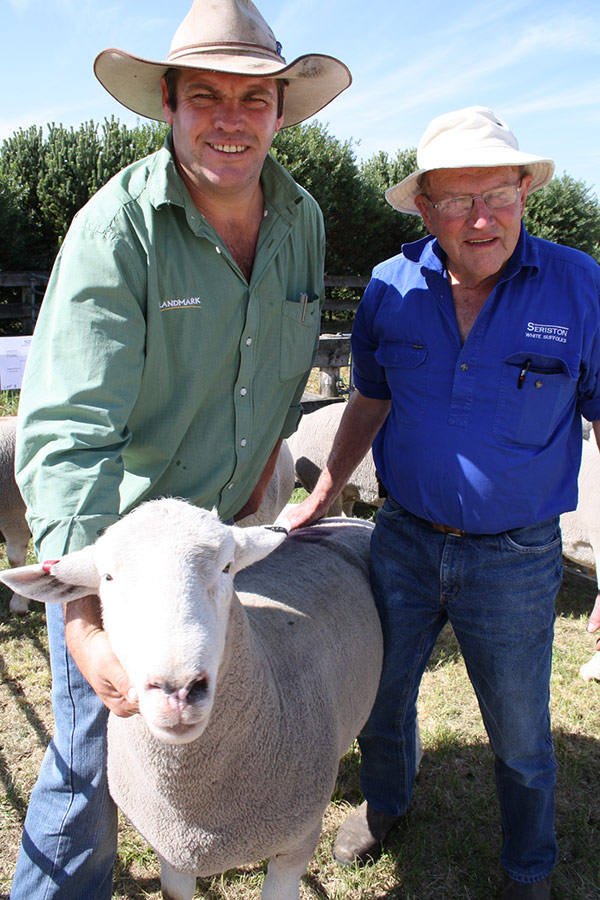 Leigh Warne, Landmark and Ken Hurst, Robe admire lot 2, Seriston 144464tw, the top priced White Suffolk at Seriston. Leigh purchased the ram for the Smith family, Lampshed Farms, Edenhope.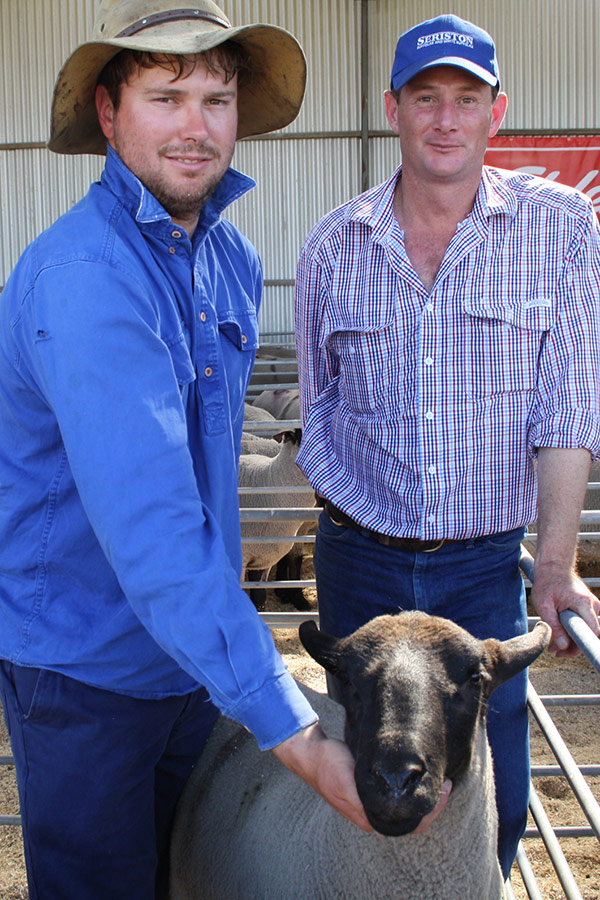 Daniel Varcoe, Elgin Past. Co, Millicent attended Seriston for the first time and purchased 7 head and is pictured with Seriston principal Anthony Hurst.