Repeat buyers ensure strong 2019 Seriston Sale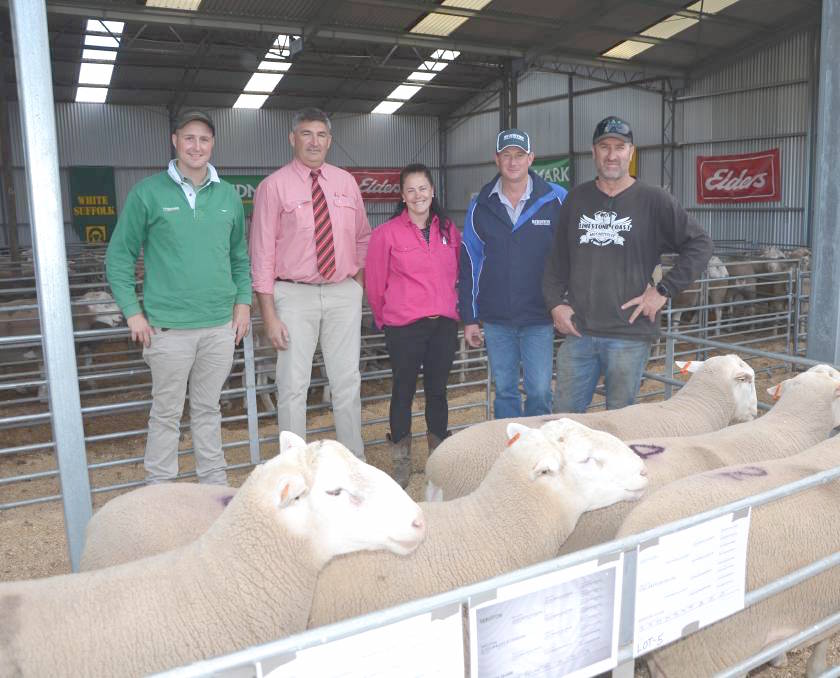 By QUINTON MCCALLUM , October 14 2019 – link to original article
STRONG local buying support ensured a quality clearance and impressive $1631 average across two breeds and 149 rams sold at the Seriston White Suffolk and Suffolk stud 20th annual on-property sale at Avenue Range on Friday.
There was strong competition on the White Suffolk catalogue in particular, with 131 of 138 rams selling to $3100, with a $1695 average.
The top-priced ram was bought by Kym Ogilvie, Naracoorte, with the June 2018-drop White Suffolk weighing in at a hefty 117.5 kilograms, with a post-weaning weight of 13.9kg, 8 millimetres fat, eye muscle depth of 48mm and eye muscle area of 40.3 centimetres squared.
The sale's volume buyer was Hillcrest Pastoral, Lucindale, which bought 12 White Suffolks to $1600, averaging $1317.
KB&RM Skeer, Beachport, bought nine to $2200, averaging $1700, with Konetta Station, Lucindale, securing eight to $1000, averaging $863.
McCarthy Livestock, Lucindale, bought seven White Suffolks to $1200, averaging $1029, while AR&JA Legoe, Lucindale, bought seven to $1400, averaging $1300.
Reedy Park Pastoral, Lucindale, bought seven to $2400, averaging $1829, while Mardango Props, Keith, bought seven White Suffolks to $1700, averaging $1371, as well as three Suffolks to $1300, averaging $1100.
Seriston principal Anthony Hurst was pleased with the result, saying the South East was in the midst of a very good season and the lamb industry was performing well, with both contributing to the buying confidence of local producers.
"We had fantastic support from locals, but also stretching up into the Upper South East, down to Mount Gambier and Millicent, as well as interstate," he said.
"We've always been known for the length of carcase in our sheep on a moderate frame and we've continued to put muscle in the topline and put a big hindquarter on the sheep, while maintaining ease of lambing through the front end at the same time."
Bathurst, NSW, buyer Courtney Gordon was quick off the mark, buying lot 1 and six White Suffolks overall to $2800, averaging $2117.
There were fewer bidders in the Suffolk catalogue, with 18 of 30 rams selling to $2200, averaging $1172.
Nampara Pastoral, Penola, was the volume Suffolk buyer, taking home nine rams to $1600, averaging $1278, while Woodstock Partners, Lucindale, bought five to $1300, averaging $900.
The top-priced Suffolk, bought by Nampara, was a July 2018-drop weighing 91kg, with 6.5mm fat, 40mm EMD and 29.6cm2 EMA.
Elders southern livestock manager Laryn Gogel was full of praise for the Seriston Park line-up.
"Anthony's certainly getting them thicker and getting a lot of red meat into them and it's exciting to see the direction the stud's heading in the capacity of the red meat through the flock," he said.
Landmark stud stock manager Gordon Wood shared Mr Gogel's sentiments, praising the consistency of the lineup.
"It's a testament to the Seriston sheep that the vast majority of buyers here have been coming to Seriston for quite a while," he said.
"Those repeat buyers are a good measure of any stud."
"Anthony's been really stringent on structure for a long time and getting that length of spine and length of loin that translates to weight in carcase in lambs."
Landmark conducted the auction, with Mr Wood and Mr Gogel sharing the gavel.