Seriston rewarded for carcase excellence – 2016 Sale Report
Pictured with the $4100 top priced White Suffolk at Seriston are Elders auctioneer Ronnie Dix, Barry Snook, manager for purchasers Engler Enterprises, Langkoop, Seriston principal Anthony Hurst and Landmark auctioneer Gordon Wood.
The success of the long term breeding objective of Seriston stud principal Anthony Hurst to keep length and frame in his White Suffolk and Suffolk sheep, while patiently adding more muscle, especially through the loin and hindquarter regions was evident for all to see at this year's ram sale.
While Anthony felt it was clearly his best quality line-up to date, that was reinforced by unsolicited comments from the many long term clients in attendance.
"The quickest way to more visual muscle is to produce smaller sheep, which then takes the lamb marketing options out for our prime lamb clients," Anthony said.
"We are not prepared to do that, so it has been a longer ride to get to the standard you can see in this year's sale team," he added.
In welcoming the very good crowd that included 35 registered bidders Anthony Hurst made special mention of two clients and their lambs this year. Greg Fisher, 'Clover Ridge', Lucindale recently sold 500 lambs at 14 to 15 weeks of age that averaged 22kg on hooks and returned $151/head.
Richard Smith, Langkoop has selected off 2460 lambs in one draft that are to be marketed this week that average 61kg liveweight at 16 to 17 weeks of age. Both were strong bidders in this sale.
All bar six Suffolks from the 149 White Suffolk and 40 Suffolk rams cleared under the auctioneering hammers of Ronnie Dix (Elders) and Gordon Wood (Landmark), achieving an overall sale average of $1209.
The greater bidding strength was clearly in the White Suffolk draft of 149 rams, with up to six of Seriston's regular Suffolk clients not requiring rams this year due to a range of circumstances that had nothing to do with the outstanding quality on offer. Consequently the White Suffolks averaged a very strong $1304 with the Suffolks going out at a bargain basement average of $791.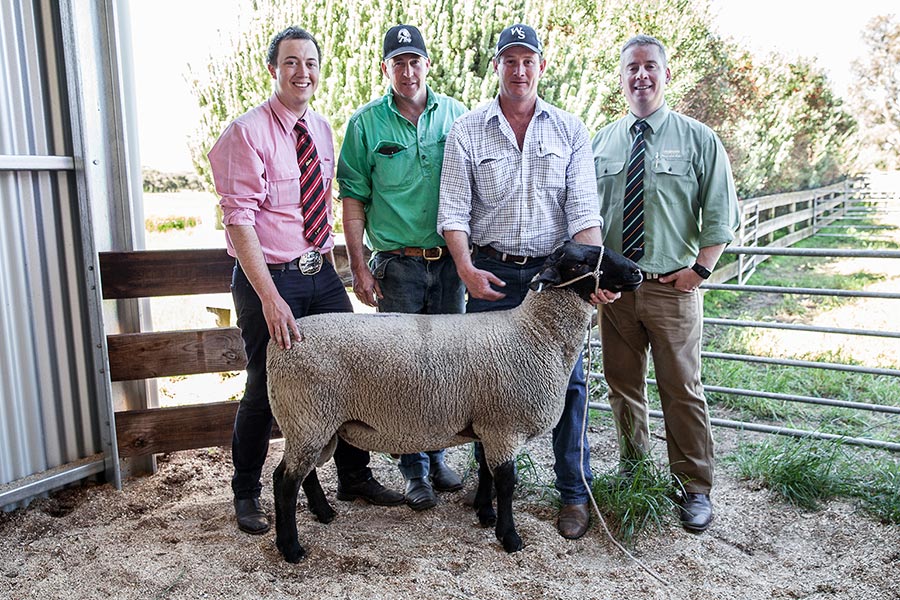 The top priced Suffolk ram and top price overall at the Seriston ram sale was this ram purchased by Lachlan Grundy (2nd left) and held by Seriston principal Anthony Hurst. They are with auctioneers Ronnie Dix (Elders) and Gordon Wood (Landmark).
However the sale's top price of $4500 was achieved for one of the Suffolk draft. This was for Seriston 150022, sired by New Zealand sire Coleford 310 and was purchased by Lachlan Grundy, Lake Roy stud through Elders Naracoorte. This ram displayed all the attributes described earlier in the stud's breeding objectives by Anthony Hurst, with a 47.5mm eye muscle depth and 40.1 sq cm area at 114kg bodyweight.
Fourteen specially selected White Suffolk rams commenced the sale and averaged $2164, giving an indication of the buying strength for the White Suffolk draft.
Amongst them was Seriston 150300, sired by Ashley Park 397. With outstanding muscle readings of 51.5mm depth and 40sq cm area when scanned earlier at just 108.5kg bodyweight, it was snapped up by Engler Enterprises through Farm Manager Barry Snook for $4100, the top priced White Suffolk.
Richard Smith, whose lambs gained a pre-sale mention, was the strongest buyer in the draft, selecting the best he could find for his lamb enterprise. He purchased 13 rams through Warne Livestock, paying to a top of $3600 and averaging $2238.
Courtney Gordon travelled from Bathurst to attain some of these rams and also bid very strongly, purchasing four at a $2400 average, topping at $3300.
Peter Kerr, Karowarra P/L and buying through Landmark Naracoorte was another strong repeat buyer, successfully bidding on 12 rams to a top of $2000 and at an average of $1617.
The volume buying honours went to Bruce Creek, A/c Balguhidder at Parawa and Kangaroo Island. He purchased 25 White Suffolks and three Suffolks, paying to a $1000 top and averaging an extreme value $704.
With the regular Suffolk buyers missing from this year's sale a majority of these went at base prices, but to Seriston's credit, a high clearance rate still resulted. David Copping, Avenue Range purchased three to $1200 in his four rams, while Peter Stock paid to $1000 in purchasing four Suffolks.
Other prominent regular buyers in the White Suffolk draft included Chas Gilkes, Bull Island Pastoral Co through Elders Lucindale (eight at a $1450 average), James McKay, also through Elders Lucindale (eight at a $1563 average).
Hillcrest Pastoral Co through PPH & S Naracoorte (nine at a $1067 average), Greg Fisher, through SAL Naracoorte (seven at a $1414 average) and the Thompson family, Mardango Props through Spence Dix & Co (six rams at a $1283 average).
New clients making an impact were Shane and Vanessa Clarke, through Elders Lucindale, purchasing six rams at a $1483 average.
The stud's longest serving client is Brad Tiver, Mt Razorback Props, Burra. He could not make this year's sale but sent an order through Elders Naracoorte's Steph Brooker-Jones, purchasing three rams at a $967 average.
Sale Summary
White Suffolks
Suffolks
2016
2015
2016
2015
Offered
149
139
40
38
Sold
149
139
34
35
Top
$4100
$3800
$4500
$2000
Average
$1304
$1252
$791
$917
Agents: Elders and Landmark
Auctioneers: Ronnie Dix (Elders) and Gordon Wood (Landmark)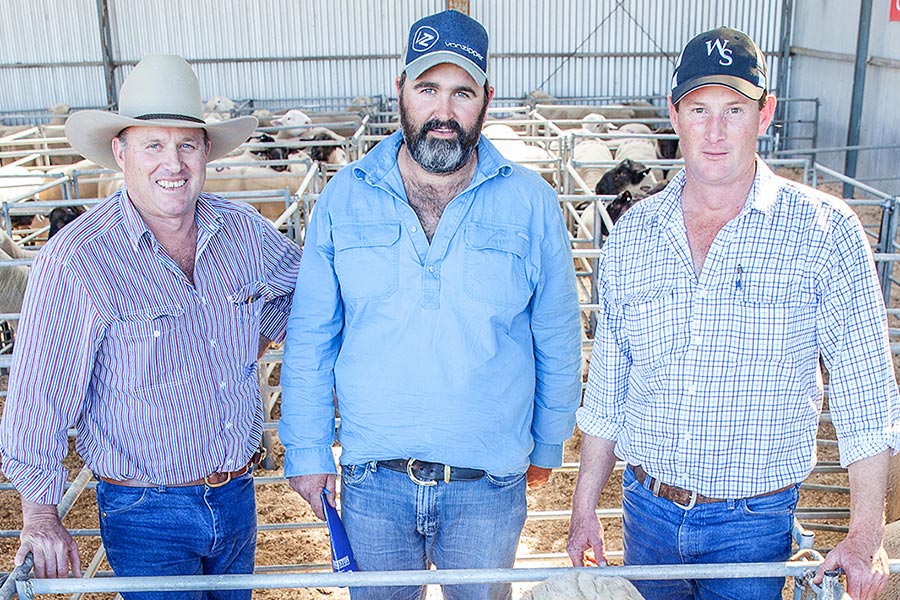 Seriston principal Anthony Hurst (right) is pictured looking over some of the impressive White Suffolk rams to sell so well, with Bruce Creek who purchased 28 rams A/c Balguhidder, Parawa and KI and new buyer Shane Clarke who purchased six rams through Elders Lucindale.
 
Photos by Chelsea Dahlenburg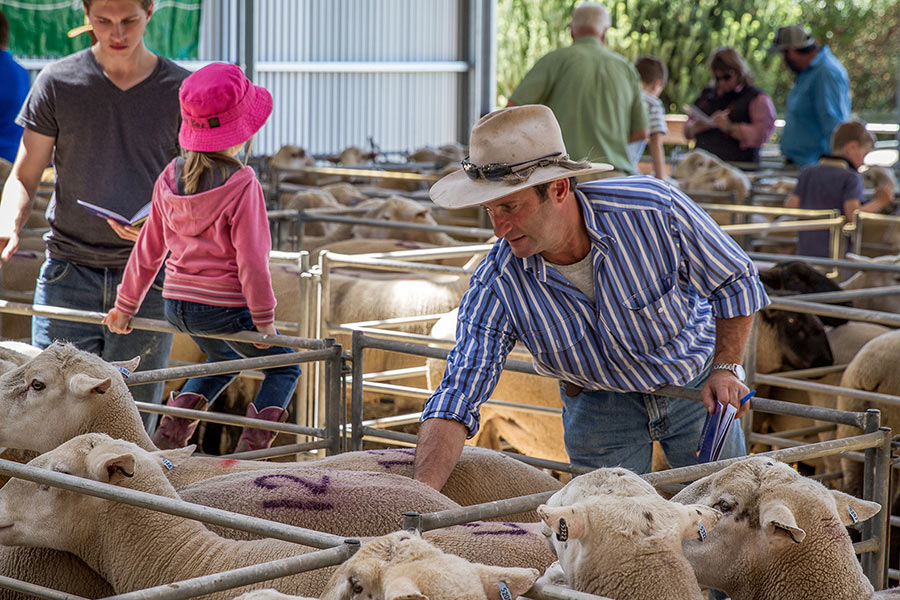 Courtney Gordon (left) travelled from Bathurst NSW to purchase four top White Suffolk rams from Seriston last Friday. She is pictured with Seriston principal Anthony Hurst (2nd right) and Sam Daniel and Jess Revell representing the joint sale sponsors Rods Stock Blocks and Coprice.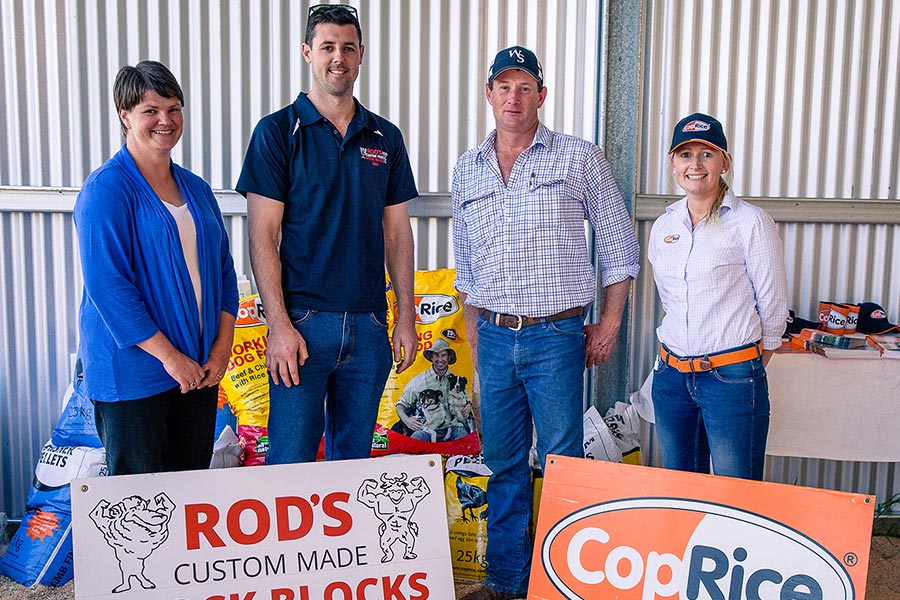 Peter Kerr, Karowarra P/L Naracoorte is pictured inspecting the Seriston White Suffolk rams pre-sale. He liked what he saw, purchasing 12 to $2000 and at a $1617 average.