Seriston celebrates 18th auction with av lift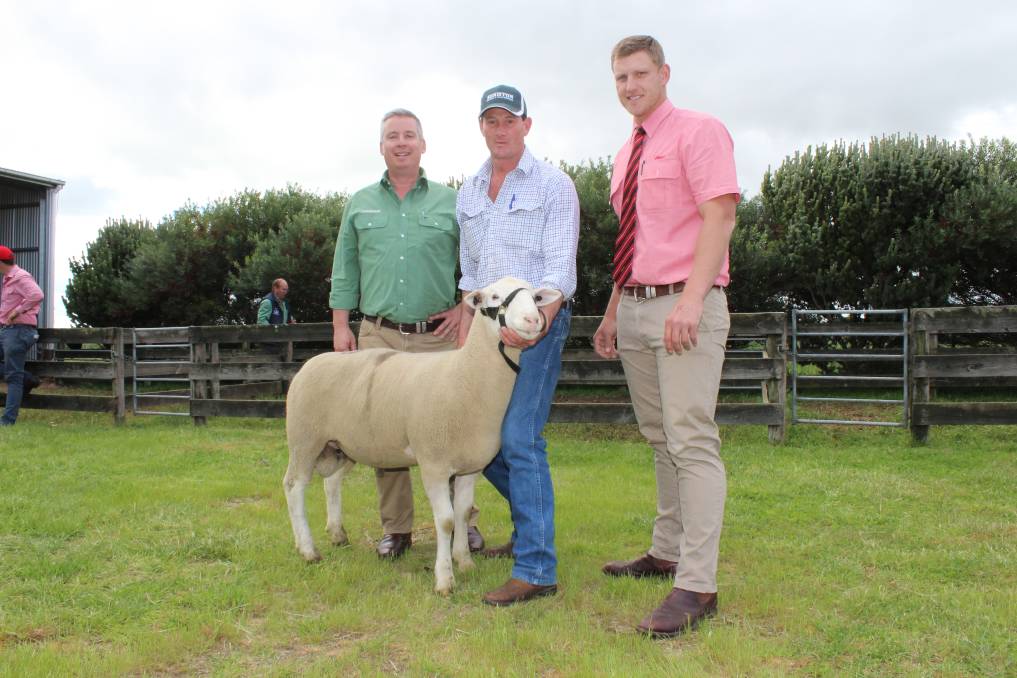 PREMIER PURCHASE: Landmark's Gordon Wood, Seriston principal Anthony Hurst and Elders Lucindale's Scott Christie with the $5000 ram bought by Baringa and Premier studs, Oberon, NSW
Stock Journal article, October 17th, 2017 – link
AVENUE Range's Seriston Suffolk and White Suffolk stud came of age on Friday, marking its 18th annual on-property sale with an increase in top price, average and clearance rate.
Across the two breeds, 183 of 185 rams topped at $5000 and averaged $1328.
The top price White Suffolk ram TW 320 – lot 10 – was offered first in the sale. A stylish, twin-born, spring-drop ram weighing 92 kilograms, it was bought by Baringa and Premier studs, Oberon, NSW.
The second-highest price White Suffolk ram was offered next as lot 1 and sold for $4000 to regular high volume buyer RD&MA Smith, Edenhope, Vic. The Smiths bought 12 White Suffolk rams in total, averaging $2254.
Brooklyn Station, Lucindale, was the next largest volume White Suffolk buyer, taking 10 averaging $770.
Other volume buyers included Lake Hawdon, Robe, with eight averaging $1412 and Hillcrest Pastoral, Lucindale, with seven averaging $1286.
Midway through the White Suffolk section, Lucindale Area School sold four rams from its agricultural program, averaging $1375.
Glenrise Pastoral, Penola, bought three of the four Seriston-blood rams, taking lots 79 and 80 as a pair for $1400 each and lot 82 for $1300.
Bull Island, Lucindale, bought the school's fourth ram – lot 81 – for $1400.
The top price Suffolk ram made $2000 to Hurlingstone Agricultural High School, Glenfield, NSW.
Volume Suffolk buyers included Hilton Rural, Robe, with eight rams averaging $775; Nampara Pastoral Co, Kingston SE, with five averaging $1240; and Woodstock Partners, Lucindale, also with five averaging $760